Robinsons Land Corporation (RLC) marked the completion of the top floor of its newest Grade A, green office building, GBF Center 1. The high-quality, sustainable development is designed to cater to evolving workplace dynamics in the post-pandemic era.
With the nationwide easing of quarantine restrictions, reopening of borders, and strong recovery of the domestic economy, the office sector of the Philippine real estate industry is expected to take an optimistic turn this year. The positive outlook on the demand for office spaces is anchored on the increasing rate of transition to on-site work and the continuous expansion of companies, particularly the Business Process Outsourcing (BPO) firms.
It is an opportune time for Robinsons Land Corporation, one of the largest property developers in the Philippines, to usher in the future of workspace with its most prime office development to date. Locators, who are on the lookout for modern and efficient office spaces in the market, must not miss out on the newest business destination in the metro. Here are some of the reasons why:
Accessibility and Productivity
The 30-storey GBF Center 1 will rise as the most prime office development to date in RLC's Bridgetowne Destination Estate.
Bridgetowne is masterplanned to provide Filipinos with best-in-class residential condominiums, a luxury lifestyle center, a premium hotel, world-class office buildings, and a 60-meter steel statue called "The Victor" as its centerpiece. It is a complete destination estate that espouses the LIVE-WORK-PLAY-INSPIRE lifestyle, hones greatness, and values the wellbeing of its community, wherein excellence is within arm's reach.
The 30.6-hectare destination estate will also include a four-lane 200-meter bridge that will connect Quezon City and Pasig City, allowing Filipinos to straddle two progressive cities at once. It has unrivaled accessibility, being located along three major thoroughfares - C5 road, Ortigas avenue, and Amang Rodriguez avenue -  and being a stone's throw away from MRT-connected Robinsons Galleria Corporate Center. This builds a strong case for GBF Center 1 as the ideal address for local and international companies alike.
As part of this complete destination estate, office dwellers can look forward to delightful experiences of accessibility, convenience, connectivity, and productivity that are beyond expectations.
First-class Architecture
GBF Center 1 is located at the entrance of Bridgetowne, serving as the gateway to the esteemed premier mixed-use destination estate. The provision of first-class, modern, and sustainable office building with an iconic frontage is ideal for its position in the heart of leading international business centers.
Its striking façade will offer a fresh visual dynamic for the C5 skyline - modern, minimalist, and international style. Upon arrival, guests will be met with simple geometric form reinforced by reflective glass and unimposing fold lines. These full-glass curtain walls will provide breathtaking panoramic views of the Sierra Madre mountain range when facing east and the Ortigas skyline when facing west. Reminiscent to a cut gem, one corner of the building gradually slopes and opens up to the road where an LED billboard will be seamlessly incorporated.
GBF Center 1 is designed to strategically combine form and function. In contrast to a classic skyscraper that steps back as it rises, GBF Center 1 will be a structure that inverts this silhouette, gradually expanding as it rises from the ground. As views become more alluring, the floor plates become larger, adding more premium on the higher levels.
In this light, GBF Center 1 will be the most iconic structure along the C5-Libis IT corridor. It will also set the tone on what to expect in RLC's Bridgetowne Destination Estate – modern, luxurious, and astonishing.
Reliable Partner in Business Growth
Keeping in mind the evolving trends and changing needs of office locators, PEZA-registered GBF Center 1 is designed to suit new workplace dynamics in the post-pandemic era and to support aggressive business expansion plans.
GBF Center 1 offers flexible and expansive office spaces with large floor plates of about 2,500 square meters. It will be sufficiently equipped to support uninterrupted business operations with 100 percent back-up power n+1 configuration for the gensets, and to maintain low idle times with high elevator-to-leased area ratio, which in effect, boosts employee productivity. 
An elegant exterior can be complemented with a technologically advanced interior to provide improved ways of working. GBF Center 1 is calibrated to adapt to the demands of the modern workforce, which will reinforce RLC's commitment to increasingly go contactless. Some of the modern features within the building include hands free toilet fixtures and QR-activated turnstiles and elevators.
In addition, RLC puts a premium on its tenants' security and well-being. It will use a visitor management system, implement standard security checks, install turnstiles and destination control elevators, and deploy round-the-clock CCTV monitoring to guarantee a safe experience inside the building premises. RLC will also install generous provisions for treated outdoor air to deliver ideal airflow rate that exceeds the prescribed DOLE standards.
Sustainable and Efficient
Aligned with RLC's sustainability goals, GBF Center 1 is designed to minimize its environmental impact to shape an eco-friendly workplace. The office development is equipped with a rainwater collection facility and LED lights. Moreover, it supports sustainable lifestyles through the installation of bicycle racks and electric charging stations for electric vehicles, among others.
GBF Center is vying for LEED (Leadership in Energy and Environmental Design) Gold Certification.
Reputable and Trusted Developer
Exuding luxury and excellence, GBF Center 1 is a true masterpiece and the most iconic development in RLC's high-quality office buildings portfolio.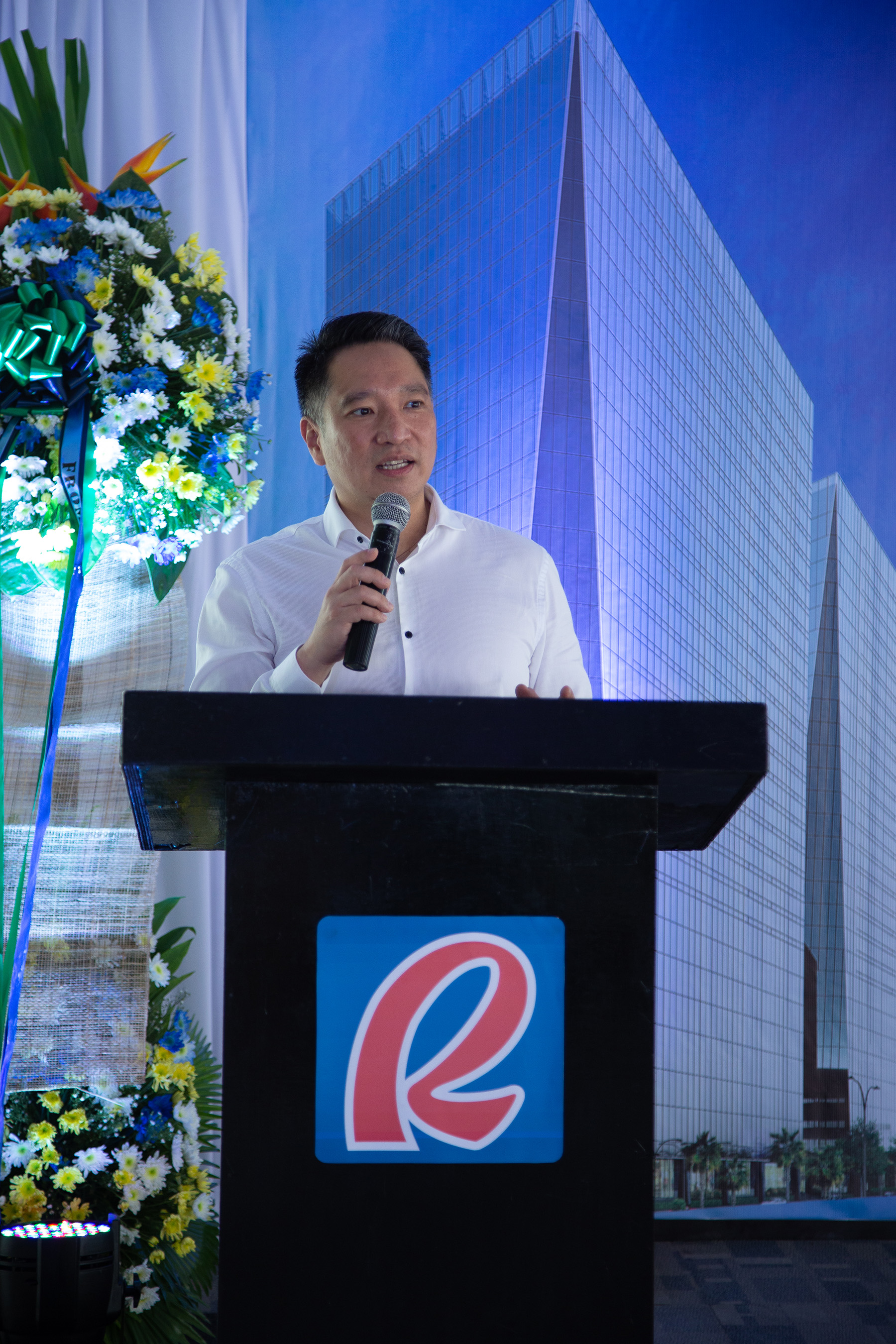 "The GBF towers are envisioned to be a landmark structure along the C5 IT corridor. The building design, technology and green building features are meant to stand out. The development is situated at the gateway of Bridgetowne, the country's premier destination estate, and is intended to set the tone for the entire complex. Bridgetowne has been carefully master planned to offer the best in class for your live, work, play and inspire experience. In our well designed workspaces we can truly say that work can be fun!" said RLC Senior Vice President and General Manager for Offices, Mr. Jericho Go.
RLC, with the rise of GBF Center 1, is committed to providing exceptional quality and service experience to its tenants and its employees. It only subscribes to tried, tested, and proven up-to-date technologies for reliable innovation that drives business growth in an environment designed to encourage everyone to reach greater heights.
Upon the completion of GBF Centers 1 and 2, RLC expects to add more office buildings to its current portfolio to accommodate the needs of tenants in the next 5 to 10 years, as part of Company's commitment to contribute to job creation and nation-building.
Learn more about GBF Center 1.