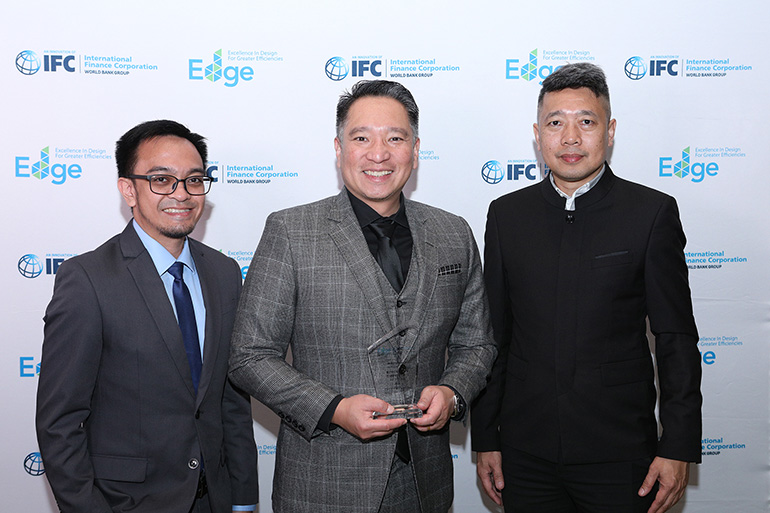 RCR advocates for a sustainable future: (L-R) Engr. Matthew Balanon, Robinsons Offices Head of Engineering Services; Jericho P. Go, RCR President and CEO; and Engr. Solomon Puro II, Robinsons Offices Project Director
In today's financial environment where savvy investors focus not only on a company's bottom line but also on their Environmental, Social, and Governance (ESG) initiatives, the country's Real Estate Investment Trust (REIT) sector has emerged as a desirable, smart, and socially responsible investment option.
Since listing with the Philippine Stock Exchange in September 2021, RL Commercial REIT (RCR), the real estate investment trust company backed by Robinsons Land, has set the standard for sustainable REIT companies in the Philippines. With a highly diverse portfolio of properties boasting green-building certification and cutting-edge, energy-saving technology, RCR is at the very forefront of the sustainability revolution, inspiring the country's real estate industry to boldly push forward toward a greener and more environmentally friendly future.
The public's growing demand for sustainable REITs signifies a transformative shift in investor priorities, as they align their financial choices with their values, thus paving the way for positive change. The rationale behind the desirability of sustainable and eco-friendly properties was underlined in a survey by global real estate services and investment company CBRE that was released earlier this year. The survey results revealed that a significant percentage of investors and occupiers are willing to pay a premium for buildings with sustainability-oriented features and designs, including on-site renewable energy generation, smart technology to monitor and adjust energy usage, green building certification, and the use of sustainably sourced building materials, just to name a few*.
Seen in this light, RCR has been recognized as a trailblazer in incorporating eco-friendly practices across its property portfolio. 51% of RCR's properties are green-certified, exemplifying the company's dedication to promoting sustainable development. RCR's developments in Bridgetowne Destination Estate are all LEED-certified with Exxa-Zeta Towers copping LEED-Silver while Tera Tower banners a LEED-Gold certification. In Ortigas, Cyberscape Beta, Cyberscape Alpha, and Cyberscape Gamma are all EDGE-Certified.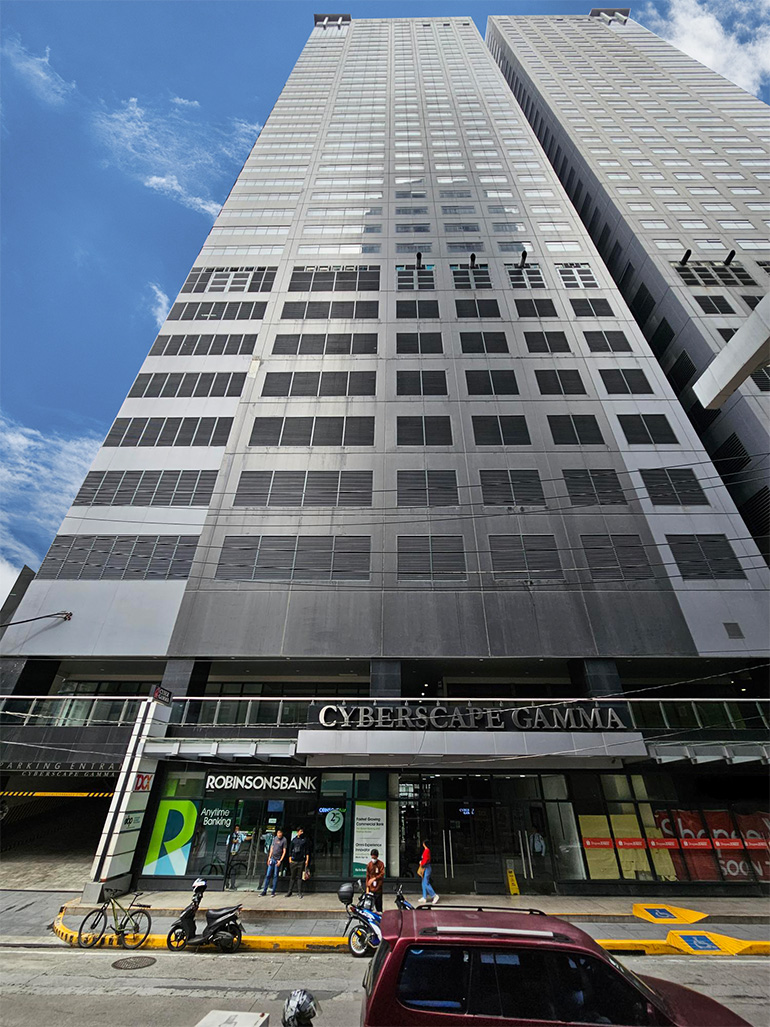 Cyberscape Gamma, the Philippines' first EDGE-certified REIT office building
Notably, Cyberscape Gamma, an RCR-owned property managed by Robinsons Offices (a division of Robinsons Land), stands tall as the Philippines' first EDGE-certified REIT office building.
EDGE, which stands for Excellence in Design for Greater Efficiencies, is an internationally recognized green building certification system created by the World Bank's International Finance Corp. The EDGE certification focuses on energy, water, and embodied energy in materials (the calculation of all the energy used to produce the materials that make up a building), to attain a measurable approach to sustainability.
With its growing lineup of EDGE-certified buildings, RCR recently attained the prestigious IFC EDGE Champion status, becoming the first office REIT company in the Philippines to earn this recognition. By embracing eco-friendly designs, state-of-the-art technology, and responsible building management, RCR and Robinsons Offices have fostered together a model of sustainability worthy of emulation.
RCR's properties are packed with an array of sustainable features including low-flow faucets, toilets, and urinals to bring down water consumption by a minimum of 20%; several buildings employ rainwater harvesting systems as well. These features all help to ensure a reliable water supply and an overall reduction in costs.
The buildings of RCR also feature advanced HVAC (Heating, Ventilation, and Air-Conditioning) systems, which play a crucial role in maintaining indoor air quality (IAQ). Using the latest technology to control the temperature, humidity, and quality of the air in enclosed spaces, these HVAC systems promote occupant health, comfort, and productivity, fostering a positive and sustainable work environment.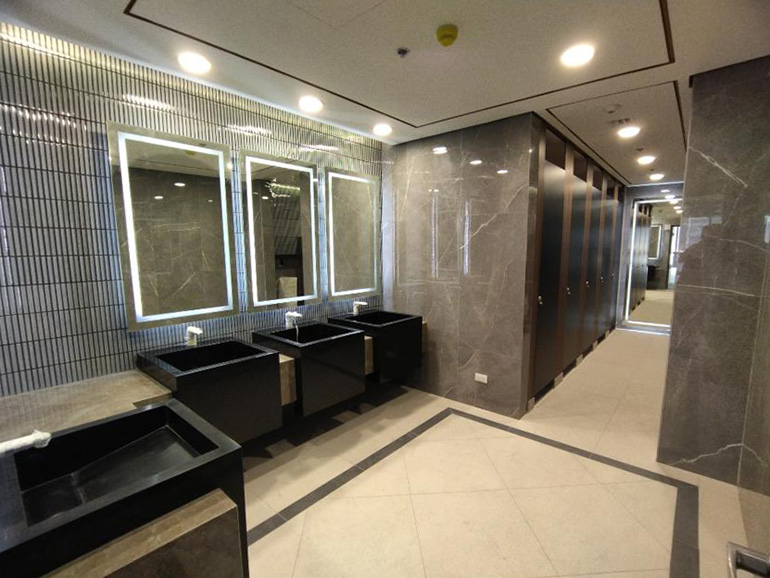 Robinsons Offices' low-flow water fixtures
A number of RCR buildings feature double-glazed windows which greatly improve thermal insulation by reducing heat loss during cooler months and heat gain during hotter months. Buildings with double-glazed windows require less energy for heating and cooling, which equates to significant energy savings to go with the bonus of providing enhanced occupant comfort, leading to higher productivity and well-being.
RCR also does its part to minimize heat island effect, the phenomenon in which urban areas experience higher temperatures compared to the surrounding rural regions. This is achieved by having parking spaces under cover and using paving and roof materials that are Solar Reflectance Index (SRI)-compliant.
Helping to reduce RCR's environmental impact even further are the dedicated Materials Recovery Facilities (MRF) in each building. These provide segregated compartments for mixed paper, cardboard, glass, plastics, metals, batteries, and electronic waste, contributing to waste reduction and responsible waste management.
Without a doubt, another reason why REITs are gaining traction these days is that they are highly accessible to even smaller investors, allowing them to participate in large-scale real estate projects that they might not have access to individually.
With RCR's sustainable and socially responsible investment opportunity, even smaller investors gain access to large-scale real estate projects. Investing in RCR creates passive income, enabling savings to grow significantly. These accumulated savings empower investors to contribute to nation-building by investing in small businesses, fostering sustainable practices, and driving positive change. This transformative shift in investor priorities not only paves the way for a greener future but also strengthens the nation's economic landscape through socially conscious investments.
The unwavering commitment to Stewardship, a core corporate value of the Gokongwei Group, RCR's parent conglomerate, drives the company's sustainable endeavors and sets the standard for others to follow, inspiring them to embrace practices that lead to a better future, where all of us can thrive.
Jericho P. Go, Senior Vice-President of Robinsons Land, General Manager of Robinsons Offices, and President and CEO of RCR, encapsulates the company's philosophy by stating, "When we care for our environment through the wise use of resources, we are able to bestow upon future generations a brighter and better tomorrow."
Originally posted in BusinessWorld.